Chinese Style Christmas
中国式圣诞节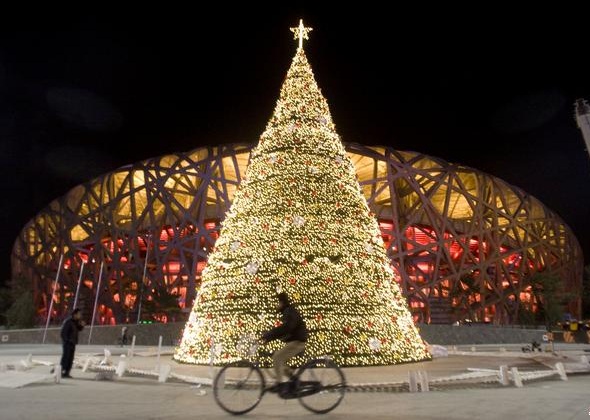 西方的圣诞节是家庭团聚的节日,大家都在家里过;但是中国式的圣诞节,年轻人一般都在外面过,不和家人过而是和爱人、朋友一起过。
情侣们一般会在烛火摇曳的西餐厅吃上一顿大餐,再在彩灯环绕的圣诞树下交换礼物,把圣诞节过成第二个情人节。商家也为此大做文章,西餐厅在平安夜推出打折的情侣套餐,酒吧在圣诞前夕装扮出更多的浪漫气息,精品店热卖情侣套的"圣诞围巾"、"圣诞手套"等等。商家的目的就是利用节日促进消费。
还有一些年轻人会选择和朋友一起在酒吧、KTV这些地方度过。虽然圣诞节并没有放假,但大家还是找个理由放松一次,尽情欢乐,作为紧张工作的调剂。现在许多外资公司也顺应潮流为员工在平安夜举办大型圣诞party,增加员工与公司的感情。
在中国,是圣诞节并不体现宗教意义,只是人们用来放松心情、增进感情的理由。
Western Christmas is a holiday for family reunion with everyone at home together. In China, Christmas is celebrated by young people, but instead of spending it at home with their family, they go out with their friends.
In the west, couples will often dine with candle light and share a big meal, then exchange gifts under the Christmas tree. China, of course, doesn't have Christmas as a religious tradition, but it is promoted by stores and restaurants. Western restaurants will offer discount couple packages on Christmas Eve, clubs will host semi-formal events, and boutiques promote couple sets of "Christmas scarves" and "Christmas gloves". So, in China the holiday is mainly a way to boost consumption (though this is a major trend in the West as well.)
There are some young people will choose to spend the holiday with friends in bars or KTV. And while Christmas is not an official holiday, many people use it as a reason to relax and enjoy, instead of intense work. Many foreign companies in China now also host a large Christmas party for their staff on Christmas Eve to boost morale and team spirit in the company.
So while Christmas in China does not reflect the religious origins, people still take advantage of the occasion to relax and strengthen relationships.