You are here
Chinese Business Dinner Etiquette Workshop for Global EMBAs by Mandarin House
Chinese Business Dinner Etiquette Workshop for Global EMBAs by Mandarin House
美和EMBA中国商务礼仪课堂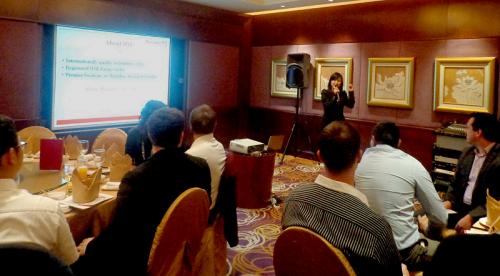 Ever wish you had a head start on building that infamous guanxi? That's exactly what a group of EMBA participants received from Mandarin House.
The 41 participants joined the workshop as part of their Omnium Global EMBA program, managed by the University of Toronto and University of St. Gallen. During the workshop they learned the intricacies of business dinner etiquette in China. Topics ranged from where to sit, to discussing business, to refusing alcohol and food.
Mandarin House instruction accompanied a traditional Chinese banquet with dishes from the various culinary styles of China. Participants enjoyed practicing the various techniques and advice throughout the meal in order to digest and retain them. In the words of one senior manager, "I'm still jet-lagged, but for my own survival I'm sure I'll remember this evening."
Are you interested in learning more about Chinese etiquette? Read this article on the proper usage of chopsticks!
Mandarin House Business Etiquette Programs are regularly conducted for businesses and organizations who need their foreign staff to understand the practical applications of Chinese etiquette. Contact us to receive more information!