You are here
Mandarin House Student Finds Fame at China's 12th National Congress
Mandarin House Student Finds Fame at China's 12th National Congress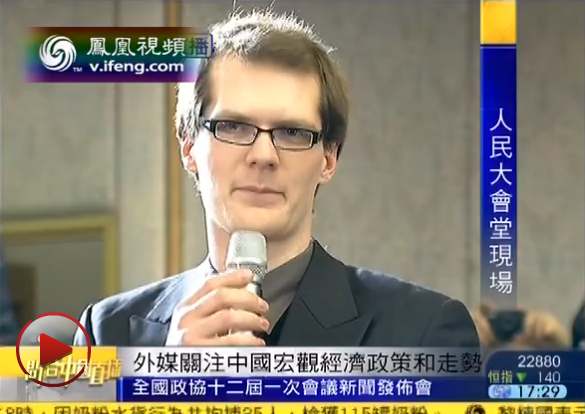 Mandarin House student, Matthew Dent, or 邓马福 Dèng Mǎ Fú, first started learning Chinese from his wife and an elective Chinese course at university 5 years ago. He had been learning Chinese since then on a part-time basis, but finally decided to enroll at Mandarin House to take his speaking to the next level. Following a 5-week intensive Chinese course at Mandarin House in Beijing, he found his voice and confidence in speaking Chinese. "The progress came much quicker than I expected," says Matthew, speaking of his time at Mandarin House. "My writing wasn't really an issue because I was able to practice and learn Chinese characters on my own, but for speaking, I really needed the live feedback from this intensive program." (Read more about Mandarin House's intensive Chinese programs.)
Matthew finished the intensive Chinese course at Mandarin House in December 2012 and came back to Beijing to attend the CPPCC in March 2013. One of the main topics of the conference was China's macroeconomic policies and trends. As a reporter from CAMG Media Group, Matthew posed his question to the Chinese advisory body in Mandarin. In this case, the response was less noteworthy than the question itself. Chinese journalists were immediately intrigued by this foreign reporter speaking Chinese and 6 of them pursued Matthew for an interview.
Watch Matthew's appearance at the CPPCC below:
Chinese People's Political Consultative Conference (CPPCC) is an advisory body to the Chinese government, made up of 3,000 delegates from various professional sectors and regions of China. The CPPCC is held in conjunction with the National People's Congress, the legislative body of China. Collectively, these two conferences are referred to as 两会 liǎnghuì or the "two meetings".
Do you hope to someday attend the "two meetings". Or maybe you just want to impress Chinese people on the street? Contact us now to get more information about our Mandarin Chinese classes!