HSK Preparation 35
Get ready for the HSK with an intensive combination of group classes and private tutoring covering reading, writing, speaking, listening, test preparation and more for the big test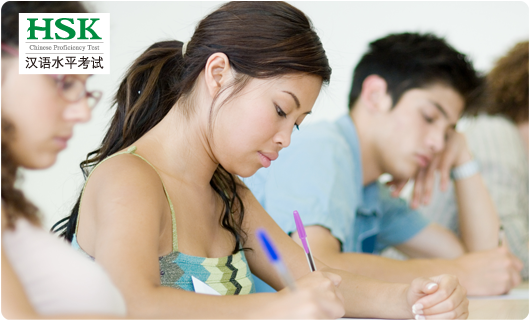 China's Hanyu Shuiping Kaoshi (HSK) is the standardized national test used to determine the fluency of non-native speakers in Chinese and is used by all Chinese universities to assess the enrolment of foreign students and by a number of Chinese companies looking for foreign workers.
An intensive combination of 6 group classes and an additional private tutoring lesson a day covering reading, writing, speaking, listening, test preparation and more, Mandarin House offers you a complete HSK preparation curriculum for all 6 levels.
Presented by our qualified, experienced teachers and tailored to your current Chinese level and future HSK goals, we will help you attain a higher score!
To apply for your HSK preparation course, please complete the online registration
Toll free in China: 400 633 5538
International: +86 21 62750779
For any inquiries, please contact info@mandarinhouse.com
COURSE BENEFITS

6 group lessons PLUS 1 private lesson a day

35 language lessons a week

Learn all-round language and testing skills

Curriculum alligned with the HSK test

Small group classes, maximum 12 students

Total Beginners Start Dates| Non-beginners can join us on any Monday
2015
19 Jan
23 Feb
23 Mar
20 Apr
18 May
15 Jun
29 Jun
13 Jul
27 Jul
10 Aug
7 Sep
5 Oct
2 Nov
30 Nov
28 Dec
 
 
To apply for your HSK preparation course, please complete the online registration
Toll free in China: 400 633 5538
International: +86 21 62750779
For any inquiries, please contact info@mandarinhouse.com
 
Sample Day Timetable
| | |
| --- | --- |
| Review | 09:00 - 09:45 |
| Vocabulary | 09:45 - 10:30 |
| Class break | 10:30 - 11:00 |
| Grammar | 11:00 - 11:45 |
| Conversation | 11:45 - 12:30 |
| Lunch break | 12:30 - 13:30 |
| Reading / Writing | 13:30 - 14:15 |
| Comprehension review | 14:15 - 15:00 |
| Private session | 15:10 - 15:55 |
 
HSK Preparation 35 Tuition Prices in RMB
| | |
| --- | --- |
| Price/wk 2+ | 3790   |
| Price/wk 4+ | 3690 |
| Price/wk 8+ | 3590 |
| Price/wk 12+ | 3490 |
| Price/wk 24+ | 3390 |
 
To apply for your HSK preparation course, please complete the online registration
Toll free in China: 400 633 5538
International: +86 21 62750779
For any inquiries, please contact info@mandarinhouse.com