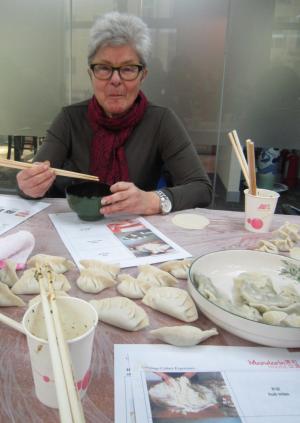 Name: Ninette Bohbot
Country: France
Occupation: Photographer
Languages: French, English
Interests: Read, cinema, yoga, Qi Gong
'ÄúStudents should come to China open-minded and get prepared to be surprised'ÄĚ
Q. Why are you learning Chinese? In which course are you?
A. I came to China, because my son is working here and I wanted to share the experience with him and understand the Chinese culture.
Q. How are you finding your studies in China and what do you think about Mandarin House?
A. I like it very much, the lessons and the workshops.
Q. What tips would you give to students who are planning to study in China?
A. Students should come to China open-minded and get prepared to be surprised.
Q. What do you find most interesting about Shanghai?
A. The modern changes, it is so big, so cosmopolitan.
Q. How difficult/easy was it to adjust to life in China?
A. I had to adapt to the different way of thinking and culture, especially because I am living at a Homestay family. The first week was difficult, but once you speak with them, they will open up to you.
Q. What was your biggest culture shock?
A. The family organization, it is so different comparing to France.