You are here
Shopping Online in the PRC
Shopping Online in the PRC
 
Shopping online in China is a fantastic way to get great deals and also explore all of the strange innovation that goes on around the country. In recent years, e-commerce has skyrocketed in China because outside of the major cities, many products simply aren't available. In 2012, 220 million Chinese people made a purchase online, compared with 150 million in the United States. There are many, many shopping sites in China, but today we will introduce you to the two most important ones and soon enough you will be on a first name basis with your kuaidi.
Tmall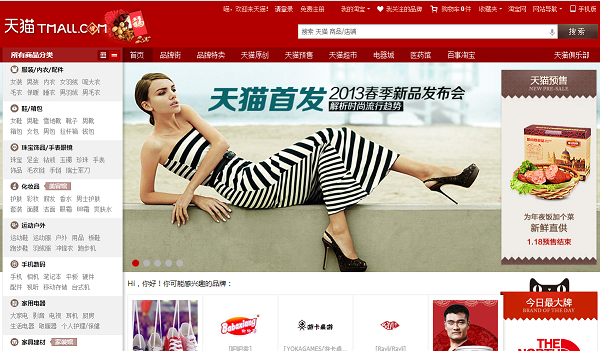 Tmall is one of two online shopping sites from the Alibaba Group, with the other site being the infamous Taobao. Tmall'Äôs Chinese name Tian Mao (Ś§©ÁĆę) translates literally to the very cute, 'Äúsky cat'ÄĚ. Essentially, Tmall is a collection of major, official brands located within one website, similar to Amazon.com.
Tmall is able to exclude many less reputable companies and ensure quality by requiring significant deposits from companies in order to sell on the site. Only the stores with top ratings for service and product quality are eligible to continue selling on the site. This gives customers confidence that they will receive the product they are expecting and it has helped Tmall to develop their reputation as a trusted online retailer.
Taobao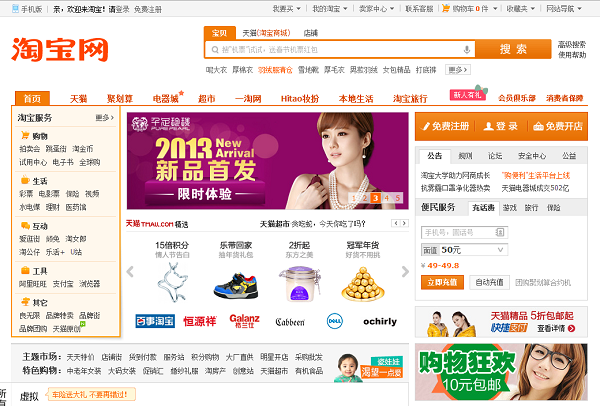 Taobao is probably the best known shopping website in China, both for the low prices and the incredible variety of products. While Taobao is owned by the same company as Tmall, the shopping experience and purpose of the site is quite different. Tmall represents major, established brands, while Taobao is full of small businesses and entrepreneurs selling their goods based on reviews, uniqueness, and low prices. Taobao also offers some online auctions, similar to eBay, but the vast majority of sales are from small businesses in China.
Payments are made using the system Alipay, which will not release the payment to the seller until the buyer confirms that they received the product they ordered. This helps small businesses without a reputation to build trust with online customers and in turn has helped the success of Taobao. 
Conclusion
Between these two websites, even if you are located in the far reaches of the Tibetan Plateau, with a basic internet connection you can order just about any item imaginable, often at a very good price. Of course, being able to speak Chinese will greatly improve your ability to bargain and find great deals. Send us an email to find out more about how our classes can prepare you for the world of online (and offline) shopping!