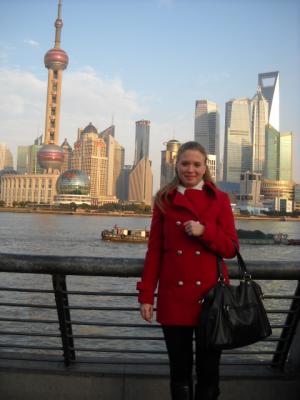 Name: Angelika Molnar
Country: Switzerland
Occupation: Traveler
Languages: German, English, French, Hungarian
Interests: Traveling, languages, volleyball
"My Chinese improved way more than I thought it would"
Q. Why are you learning Chinese?
A. I was looking for a new challenge and the language has always fascinated me. I also think that China is the future.
Q. How are you finding your studies in China and what do you think about Mandarin House?
A. I love to study here, the teachers are very patient and they help you even after class. I think my Chinese improved way more than I thought it would. The accommodation is great. The location couldn't be better, and the apartments are really big, modern and clean.
Q. What is your most memorable experience in China?
A. The first time I walked along the Bund. To live in Shanghai was my dream and when I saw Pudong on the other side of the river it finally came true. I also went on a really amazing trip to Beijing. And going out with my new friends is so much fun, that I will always remember it.
Q. What tips would you give to students who are planning to study in China?
A. They should come very open minded. It's not always easy, but if they're willing to learn and live great experiences, they will have the time of their lives.
Q. What do you find most interesting about Shanghai?
A. There is always something going on or something to do. The city went through a huge change in the past twenty years. I'm sure when I come back there will be a new tall building somewhere. You can also meet a lot of interesting people. Anything is possible here.