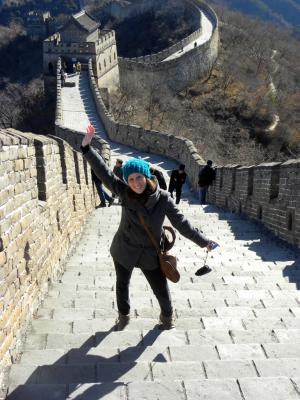 Name: Irina Planeck
Country: Germany
Occupation: Student
Languages: German, English, Chinese, Japanese
Interests: Riding, traveling, Asian culture and languages
"In my opinion Mandarin House is the best place to learn Chinese. You get to know so many people from all over the world and all the teachers are just amazing"
Q. Why are you learning Chinese?
A. Chinese is one of the most difficult languages, but for me the most interesting one.
Even the characters tell you something about the Chinese culture and history.
The language just fascinates me.
Q. How are you finding your studies in China and what do you think about Mandarin House? 
A. My studies in China were just incredible. Beijing is becoming one of the most important cities in the world. You can find a modern city combined with a lot of historical and cultural background.
In my opinion Mandarin House is the best place to learn Chinese. You get to know so many people from all over the world and all the teachers are just amazing. You always get help if you should have a problem and they really care about every single student.
All teachers are really interested in teaching their language in a really effective way, with a lot of fun. I learned more Chinese than I expected and the accommodation was great too. Mandarin House exceeded all my expectations!
Q. What is your most memorable experience in China?
A. I can't really say my most memorable experience, because the whole time in China was just memorable. Everyday brought a memorable experience with it.
Visiting the Bird's Nest, the Great Wall, the Summer Palace, the Forbidden City, the Beijing Zoo, traveling together with friends to HK, Shanghai, Harbin, going to KTV with friends and teachers, going out to Sanlitun, going to the cinema, just going out for dinner with friends from school and Chinese friends…every single day, every single thing I did became a memorable experience.
Q. What tips/advice would you give to students who are planning to study in China?
A. If you are planning to study in China, you definitely won't regret your decision. You are on the best way the learn Chinese, get to know a lot of new people, get to know Chinese history and culture. My advice: just don't be scared and go to China without any prejudices. Mandarin House is like a big family and they will always care about you and will treat you the best way they can!
Q. What is your favorite place in Beijing?
A. Summer Palace, Hou hai and of course Sanlitun
Q. How difficult/easy was it to adjust to life in China?
A. It was really easy. It's easier than most people think. It's not that different as you think. And Chinese people will help you to adjust, if it's needed. Chinese people are really caring, helpful and everybody makes you feel comfortable. Even if you go to China with no knowledge of Chinese (like I did), everybody still will understand you. I never got the feeling of being an outsider or misunderstood, they will integrate you from first day on.