Blog
Keep up-to-date with the lastest news, promotions and tips on how to learn Chinese with Mandarin House!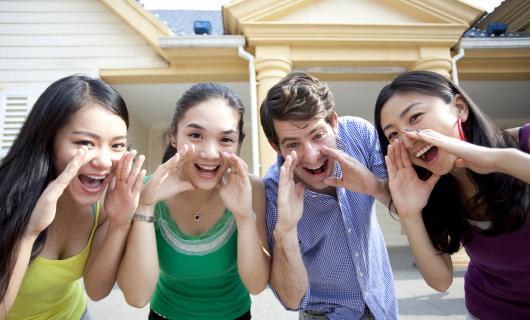 From us to you, may 2013 bring light, prosperity, and lots of Chinese!

Watch Mandarin House students perform Chinese tongue twisters.

On December 21st, Mandarin House held a multi-lingual, multi-national Chrismas celebration.

On December 3rd, Mandarin House hosted its third HSK exam with over 100 participants.

Last week, International Channel Shanghai (ICS) came and interviewed some Mandarin House students and staff for an upcoming episode of Laowai Lowdown on ICS's 'Shanghai Live' TV program.

Mandarin House Shanghai held language and culture activities for 30 students from Limkokwing University.

Mandarin House has been a supporting partner of A&F's expansion into the China market, delivering language and cultural training to their international management team.

In China, the National Holiday is a big deal and it is to celebrate the founding of the People's Republic of China by Mao Zedong in 1949.

Our Beijing students, staff and teachers recently celebrated China's Teachers Day (教师节) and the Mid-Autumn Festival (中秋节).

Mandarin House will attend the 6th Expat Show Shanghai, held from September 14th to 16th at Shanghai Exhibition Center. Come to visit our stand and get a special surprise in return!

Mandarin House is pleased to announce we have once again been nominated for Study Travel Magazine's Star Award for the 'World Language Provider' category.

The 7th Expat Show promised to be the largest gathering of expatriates in Shanghai in 2013. Mandarin House rose to meet this challenge by sending over forty staff members to meet the expat community and assist them with their Mandarin study.

Sergio, Mexican (25) and student at Mandarin House, has been in Shanghai for 10 months. After working for a while, he decided to start a business with other two partners and invest in his future by learning Chinese. Do you want to know how he became an entrepreneur?

Do you want to know more about Mandarin House' teachers? Read more about about Eric 老师 and his experience at Mandarin House. It will surprise you!

Summer is coming to an end, as well as 2012 Summer edition. This year, about 100 kids aged between 7 and 19 years from all over the world joined Mandarin House Summer Program and some of them left a final message to share with everybody their experience at Mandarin House!

Laura and MÂŞ Luisa Alcocer, from Spain, have come to Mandarin House Shanghai School to spend six weeks of their summer vacation learning Chinese. "After taking the exams back home I thought it might be too much to come to China and continue learning, but I found that it is totally fun"...

Jasmine Bian set up Mandarin House in China, now a successful language school chain which has taught over 20,000 students from 70 countries. Get to know about her plans for the Mandarin House brand.

Experts and parents agree that, when it comes to learning a foreign language, the younger one, starts the better. Indeed, some studies show that learning a second language at early age increases fluency and the development of a native accent. These benefits are critical especially when learning Chinese. But what's the proper way for kids to learn Mandarin?

The main topic was "Innovation and Development: International Chinese language teacher`s training and development."  Over 500 educators attended the workshop on strengthening Chinese programs, including Mandarin House president, Jasmine Bian.

More and more parents are sending their kids to summer camps in China or even moving to this country to give them a first-hand Chinese language and cultural experience. They think that with the rise of China's global influence, their kids will have better future opportunities if they are fluent in Chinese.

 "What is the best way to learn Chinese? If it's practical for your life, then you'll remember it more easily," says teacher Stanley Sun from Mandarin House. "We have developed our own structured, holistic curriculum based on the fundamental principle of providing real-life Chinese communication training," he continues. Get to know the essentials.

Richard and Veronica, father and daughter from the USA, are spending their summer together at Mandarin House. While Veronica is learning Chinese and participating in the Summer Camp cultural activities and excursions, Richard is taking the intensive Chinese course and joining his daughter for some excursions.

Mandarin House is the perfect place to start preparing for HSK. Kevan, a 19-year-old intensive course student from Austria shares, "Every day 6 hours in class and at the end of July I will take the HSK Level 3."

"Since I've learned Chinese, it's like I have more space in my brain," by Ninette Bohbot. At 72 years of age she completed an intensive Chinese course at Mandarin House and has been studying Chinese for 4 years. What is her secret?

MH: Registered HSK testing centre!!

Probably the first private Chinese school in China to achieve this!!
We will keep you informed with the exam dates and updates!

Hope to see you taking the HSK test with us!

 

We know it can be difficult to settle down to a new life in China! For this reason we want to share with you some useful expatriate forums. Read more about it. If you enjoyed your time studying with us, it would be great if you could leave a short review sharing your experience on these sites too. We love our student ambassadors!

If you want to know how to learn Chinese and be ready to start your experience in China, we recommend you visit the following sites to get prepared! Take a look to the following links!

Mandarin House will host its first HSK exam as a registered testing centre next September 8th. We encouage our students to take it as it is an invaluable tool to improve one's career progression chances. See more exam dates...

Get a plus in your experience in China and start "baoing" your "jiaozis" and go wild with a Chinese brush! Every month Mandarin House offers twice-weekly activities to help you discover traditional and modern China. Language PLUS program gives cultural insights to complement studies while meeting new people.

Subscribe to MH Youtube Channel!

Take a look to Mandarin House new videos!
We want to share with you our students review, information about learning Chinese in Beijing and Shanghai and remember when Mandarin House hosted the IALC Workshop 2011!
Subscribe to our Youtube channel and be always connected!

Cultural Insights and funny stories about China! Join us on facebook!

Mandarin House Facebook page gets you updated about new Chinese learning trends, funny stories and cultural insights about China. We post the pictures taken during the Language PLUS activities! You can also be in touch with other people interested in learning Chinese or Chinese culture!Join us!

Shanghai is a concrete jungle full of great business opportunities. What's the key to doing business here? Networking. The Canadian Chamber of Commerce and Mandarin House are pleased to present How Does Networking Really Work in China, where you'll learn how to work the room in both languages.

Enjoy the amazing natural scenery and learn more about the ancient lifestyle outside Shanghai! Register to come to Zhujiajiao, the ancient water town, on June 30 with Mandarin House. Teachers will tell you everything about history and actual life. Read more to have more information.

Summer is here and Mandarin House is hosting again its famous Summer Programs for kids and teens. Every year 100's of students from all over the world attend Mandarin House to learn Chinese, experience traditional and modern Shanghai, Beijing, make international friends and have the summer of a lifetime!

Go wild with a Chinese brush!

As part of Mandarin House Language PLUS course, we invite you to come to our Chinese calligraphy workshop for free!! Try your best with a Chinese brush! Get the feeling of China's ancient history and philosophy. We wait for you next Wednesday June 27!

Register for Language PLUS and participate in all the cultural activities and excursions organized by Mandarin House. For next week we propose visit to Yuyuan Bazzar and Temple of City God (June, 19), and Modern Shanghai Sightseeing Tour (June, 20). Do you want to come?

Find out the upcoming test dates and deadlines. Choose a date, then register at the most convenient location in Shanghai!

Mandarin House Opens 2nd Shanghai School in Hongqiao

The new school, located in the Shenggao International Building in the Hongqiao district of Shanghai, contains 12 classrooms and can accommodate 100 students. The school was opened in order to handle increasing demand for high-quality language instruction throughout Shanghai.